Why is Zorox the best choice for you?
Well, let's look at the reason why most people purchase an awning in the first place. Nine out of ten times, people invest in an awning to stop leaks that are hard-to-find. Homeowners will go to extremes to fix these pesky leaks, yet these "fixes" are, unfortunately, temporary. For example, popular cases in the New York area involve leaks into a tenant's apartment due to the everchanging temperatures of all four seasons.
All the materials involved in the make-up of a home (cement, brick, tar, etc.) are expanding and contracting in the different temperatures, causing cracks and, ultimately, leaks. Once this happens, a quick fix will not last; the ceiling will need to be completely repaired. That's where we come in! We've changed the game of awnings.
For years, there was only the aluminum awning; it would get constant complaints, such as being too noisy during a rainstorm or being opaque, preventing sunlight from entering the home through the window.
But now, please welcome, the American-made Zorox awning! Zorox is a different type of awning material that is offered in five shades in order to provide customers with a choice of how much natural light they want to pass through, and therefore enter their home.
So, if you're trying to stop a stubborn leak that just won't quit or just keeps reappearing but also enjoy natural lighting, never fear because there is a solution for you! Our awnings are made with patented, leak-proof beams that are exclusively American made and come with a 15-year manufacturer's warranty. Don't be fooled with imported, imitation plastic offered with only a one-year warranty that other companies claim to be Zorox!
Please stop by our factory and we'll be happy to show you how we can help you with your leak issues. We have proudly been the answer for over 98% of our customers since 1957 and will confidently continue this for as long as leaks will be a problem.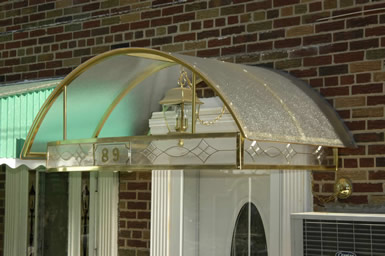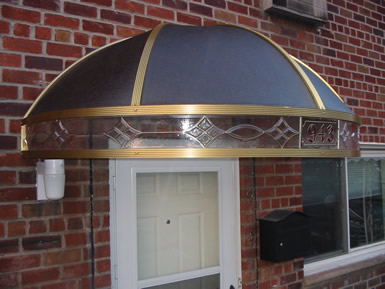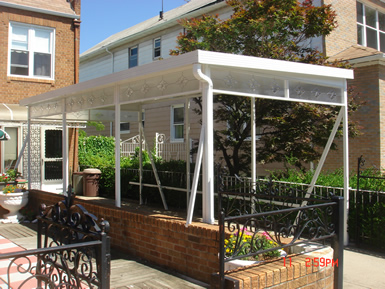 Store Hours, Locations & Contacts
Sales & Product Questions Text Us: 516 447 1929
Kings County Mfg. Inc.
2210 McDonald Avenue
Brooklyn, N.Y. 11223
718 - 266 - 2244
Tel: 718 - AWNINGS (296-4647)
Mon - Sat: 8 to 5:30
Thurs open till 8:00
Sun: 11:00 to 4:00
license numbers:
NY 1474765
NY 1474764
NJ 13VH07918800